New Training DVD announced at NAB 2009!
It's finally here folks! My latest DVD from PhotoshopCAFE.com!
Photoshop CS4 Video & Animation covers a lot of material that can all be done INSIDE Photoshop CS4 Extended. Techniques covered range from basic video editing and animation techniques, to rotoscoping, frame animation, video clean-up/retouching, masking, smart filters & FX, green screen compositing, 3D modeling and animation, and my favorite: 3D stereoscopic FX! (3D Glasses included in disk) – also includes all sample projects and source footage/image files on the DVD.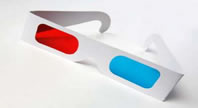 Sample movies will soon be up on the PhotoshopCAFE channel on Adobe TV.
Don't forget the best companion DVD to this title is also at PhotoshopCAFE.com!


Learning After Effects CS4 is available by clicking the image above or in the "Published" panel to your right.
Some of the 3D stereoscopic materials I've been sharing with you in the recent weeks are included on these DVDs. Look for more info and samples to follow here in my Blog after NAB!
Cheers!
Jeff